Okay, there is a secret that you need to know–most CBD products and edibles are not FDA-regulated. This means that THC might be mixed in, which is a psychoactive drug that not all people are interested in experiencing. This also means that the dosages aren't always guaranteed, and manufacturing standards will often be lost. After all, with a drug as popular as CBD, why waste money and time on something people aren't going to question?
But, you're not one of those people. You want to do your research, even if it means reading an article by a company about that company's product. But, buckle in, because this article isn't clickbait.
1. Feel Good Edibles Achieves the Highest Quality Possible
Correct dosing, infusing edibles with CBD isolate, and making the product pretty and practical aren't just the goals for Feel Good Edibles–they're the standard achievements.
The edibles have been laboratory tested and approved, and FGE isn't shy about showing the proof. Every product will have laboratory test results regarding the THC levels within the description.
2. Organic Organics
Not only are most of our edibles organic, but a few of them are also Gluten-free (300mg and 600mg bears). FGE's edibles are worth their weight in gold due to the rigorous testing they go through to ensure purity. 
Landau Laboratories Inc. has tested the edibles in the past to ensure no trace amounts of THC nor other concerning factors could be found.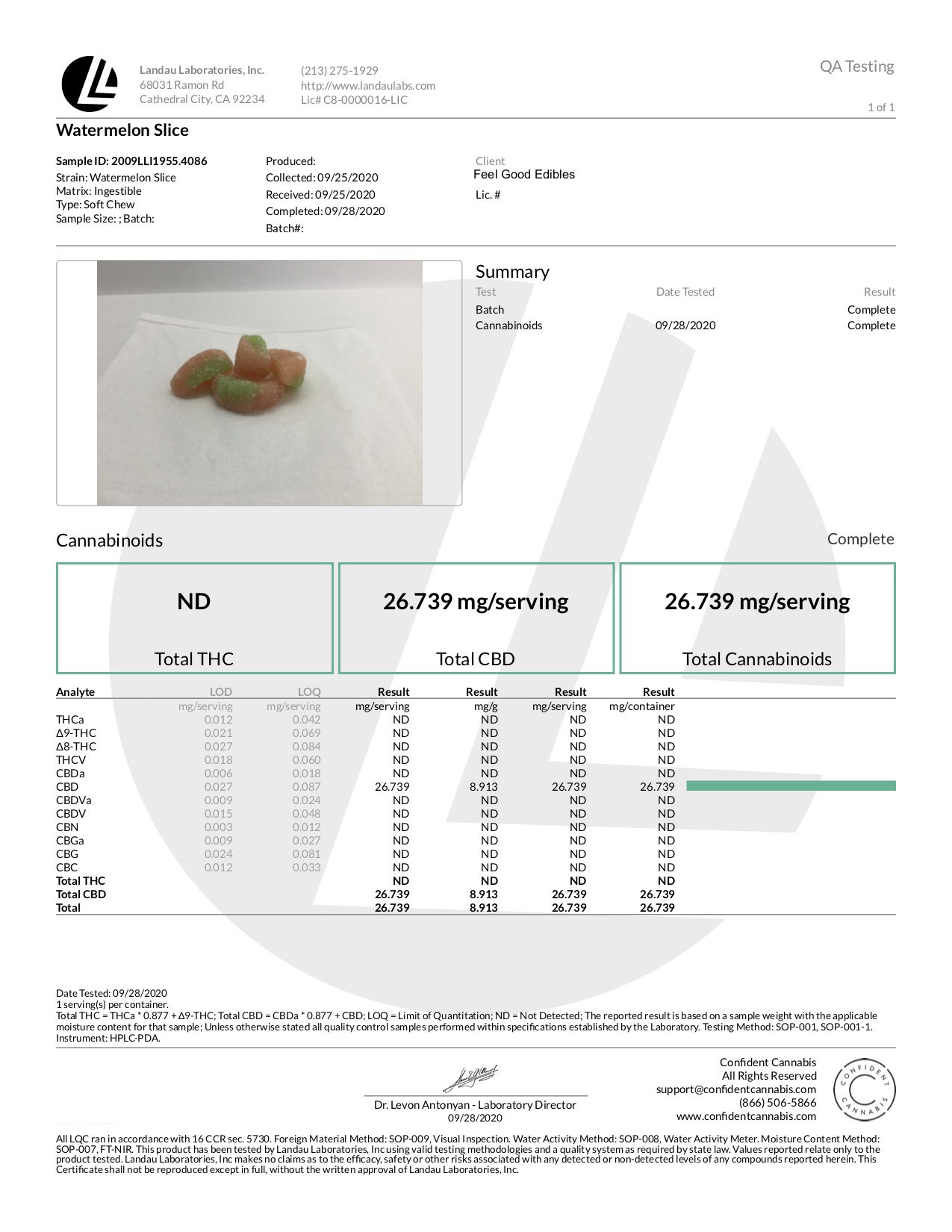 3. Edibles With Vegan-options
Gelatin is, for those who don't know, commonly made through the use of animal products. And gelatin is what makes the gummy consistency and creates the perfect chewy candy.
Feel Good offers options for vegan gummies, made through the use of plant starch instead of the boiled-down remains of an animal. Feel Good looks out not just for the people, but for the animals as well.
4. Sweet, Flavorful Gummies
Some plants are inherently bitter, which is why Feel Good decided to go the candy edibles route. 
Unlike some edibles that are rolled or dipped in sugar as an afterthought, Feel Good manufactures the sweetness into the edibles from the beginning of the process. Candy and 99.9% hemp extract are infused, creating an elegant, soothing, sweet-tooth-worthy edible.
5. Safer Choice 
Considering all of the above reasons why Feel Good Edibles are the better choice to purchase, it all comes down to safety. Some CBD companies aren't nearly as careful with their production process. Hence, leading to mistakes, miscalculations, and an inconsistent milligram dosage per edible.
♦ Interested in high-quality CBD edibles and merchandise? Check out the FGE shop and FGE Etsy Store ♦
Sometimes, in the less strict states, companies can sneak in or be careless about the amount of THC allowed through the manufacturing process, leading to an unexpected intoxication. Although some CBD brands are approved for pharmaceutical purposes, those can only be found in pharmacies. This leads to an inconvenient trip to your nearest pharmacy that not all people are willing to take. So, why not make your life easier by ordering some Feel Good Edibles today?
The information provided within this blog is intended for general informational purposes only and should not be construed as professional advice. We cannot guarantee the accuracy, completeness, or timeliness of the content presented here. Any actions or decisions you make based on this information are at your own risk. We advise consulting with qualified professionals if you require personalized advice. The opinions expressed here do not necessarily represent the views of all contributors or the organization behind the blog. We are not responsible for any errors or omissions, nor for any damages resulting from your use of this blog. By using this blog, you agree to these terms.