CBD GUMMYS & EDIBLES FOR SALE IN 2023
Add our CBD Edible Gummys to your daily routine. CBD gummys & edibles are considered one of the easiest ways to stay calm. In the last few years, CBD has become wildly popular, leading to a need for CBD edibles. People find edibles to be useful every day, due to their deliciousness, easy consumption and the powerful and soothing effects that follow. These gummies are now easily accessible online and through our website. CBD edibles are now a high-demand product due to the multiple benefits they provide.
WHERE TO BUY CBD EDIBLES ONLINE?
No choice is better than Feel Good Edibles! We produce our CBD gummies in a health-friendly controlled environment. Our products are designed in accordance with strict quality standards. By delivering our best CBD edible gummies to our valued customers, we feel privileged to be able to provide top quality to the ones we love and care about! We want you to be happy, that's our goal!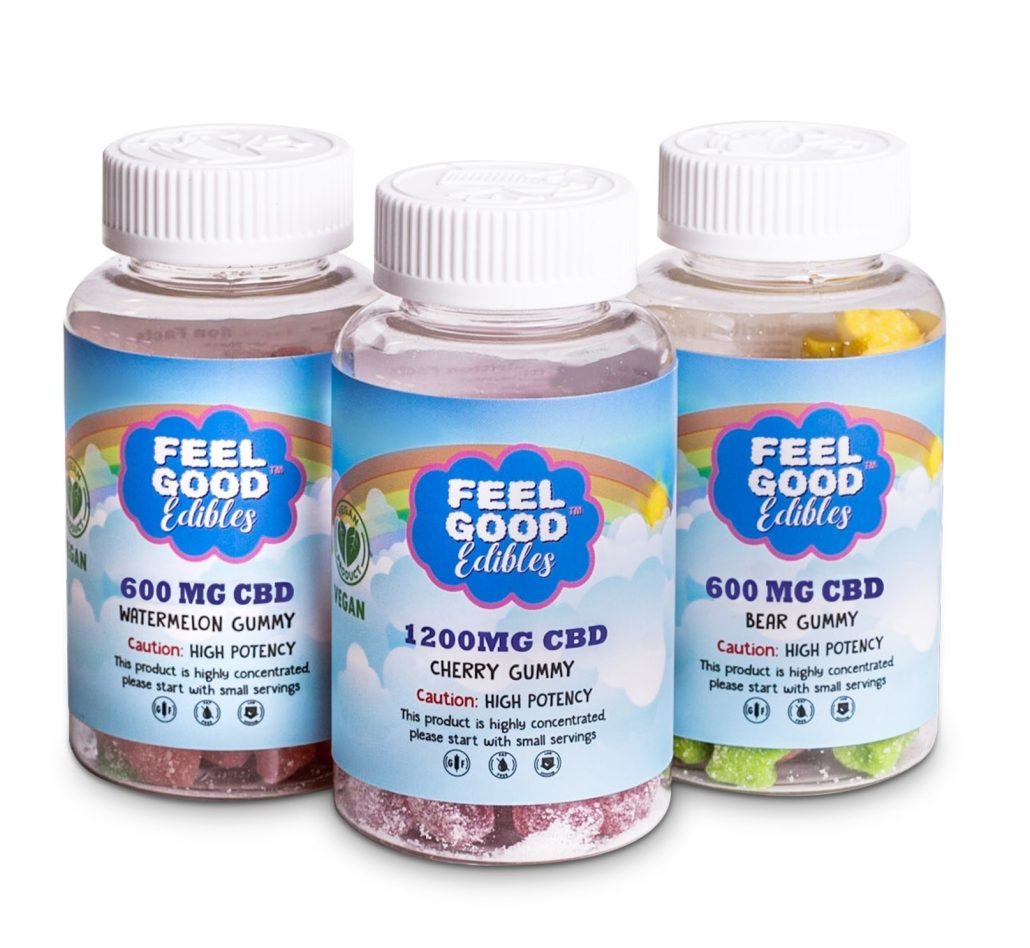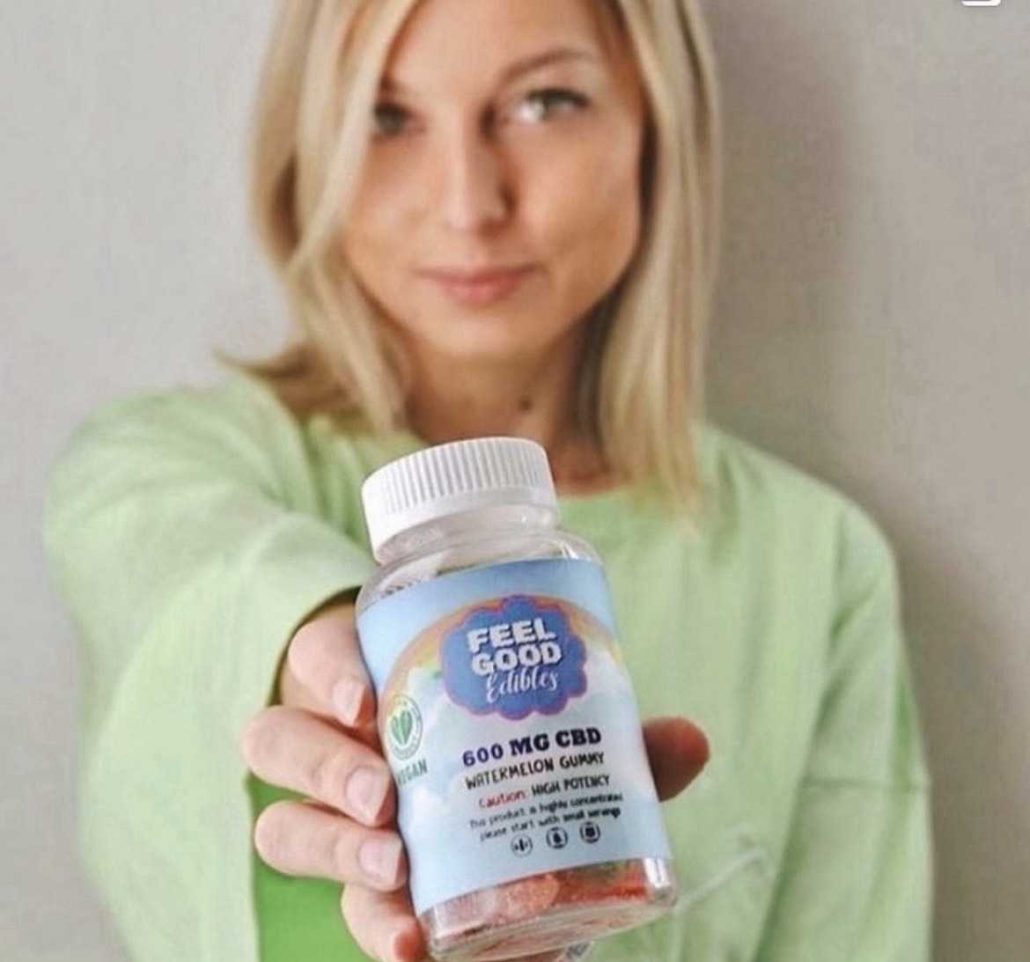 Why Feel Good Edibles? Feeling good is our top priority. We are a team of passionate visionaries, and Cannabinoid enthusiasts, brought together by a desire to help people live their best lives. All of our CBD gummies undergo rigorous research and quality testing formulated by pharmacists, keeping our key factor in mind, the end consumer's satisfaction. To adhere to all regulations and ensure you get a consistently high-quality product with a taste that's to die for, we guarantee our Feel Good Edibles contain pure Cannabidiol without any THC.
How do we achieve the staple mouth-watering taste of our CBD gummys? We combine pure CBD extract with candy ingredients and fruit nectars in large-scale production using exact formulas to ensure your new favorite snack is safe, healthy, easily digested, and absolutely delicious! A consistent CBD serving with Vegan CBD Gummies can easily be maintained. People now can buy CBD edibles online from many companies however, some products contain THC. The dosages are under the legal limit, but it is still being consumed. Feel Good Edibles produce only THC-free CBD edibles. The CBD dosage sold by Feel Good Edibles ranges from 300mg to 1500mg per bottle at 10mg, 20mg and 25mg per gummy.
Are Feel Good CBD Gummies legal in the Big Apple (And The Rest Of The USA?)
You bet they are! Our gummies have absolutely no THC – nada, zilch. We're sticklers for the rules, making sure our goodies meet the high bar of U.S. regulations. So, enjoy them with the confidence of a New Yorker strutting through Times Square.
Can these CBD Edibles zap my aches and pains?
Look, our edibles are like that classic New York slice – they just make everything better. We're not in the biz of making health claims, but there's buzz in the streets that CBD might help take the edge off. Stay tuned as the science grows.
Are kiddos allowed to munch on these gummies?
Our gummies are top-shelf, adult-only treats – think of 'em like a 18+ jazz club in the West Village. They're for the over-18 crowd, capisce?
Will CBD Gummies send my insomnia packin'?
Our gummies are crafted for max chill – like a Sunday stroll in Central Park. They're not officially sleep aids, but hey, they're perfect for unwinding after a long day.
How do I rock these Feel Good CBD Gummies?
It's as easy as hailing a cab on 5th Ave. Choose your strength – 10, 20, or 25 mg of CBD – then kick back with these tasty treats. Remember, good vibes take their sweet time, just like the A train on a weekend.
What's the deal with bottle sizes?
Each bottle's packed with 30 to 60 gummies. Whether you're a downtown 10 mg per piece person or uptown 25 mg, we've got your back.
What's so special about Feel Good Edibles vs. the other guys?
It's the New York know-how for us. We're all about premium quality, safety, and making sure you're more satisfied than a tourist with a front-row Broadway seat. Made right here in the U.S. of A, with pure Cannabidiol and a side of natural fruit extracts, our vegan gummies are as authentic as a bagel on the Lower East Side.
First time with CBD Gummies – what's the 411?
Strap in for a taste adventure, rookie. It's a gentle ride with a fruity kick that'll have you feeling like you've got the best seat on the Staten Island Ferry. Give it a sec – the good vibes roll in after the gummies digest.
How quick's the delivery?
We're on it faster than a Port Authority panhandler! Orders fly out the door within 24 hours, but if the city's buzzin', it might take a smidge longer. Once we ship, your gummies hit your stoop in 2 to 7 days, depending on where your digs are.
Are these edibles gonna help with my jitters?
These gummies are like a calming cruise down the Hudson, but let's keep it real – they ain't a cure for anything. Before diving into any new routine, chat with your doc.
What's the lowdown on CBD and my brain?
Our edibles are like a soothing jazz tune for your mind – they're tested to the nines to ensure you're getting nothing but the chill factor.
Can my grandparents get in on this?
For sure, as long as they've got more than 18 candles on the cake.
.