CBD GUMMYS & EDIBLES FOR SALE IN 2023
Add our CBD Edible Gummys to your daily routine. CBD gummys & edibles are considered one of the easiest ways to stay calm. In the last few years, CBD has become wildly popular, leading to a need for CBD edibles. People find edibles to be useful every day, due to their deliciousness, easy consumption and the powerful and soothing effects that follow. These gummies are now easily accessible online and through our website. CBD edibles are now a high-demand product due to the multiple benefits they provide.
WHERE TO BUY CBD EDIBLES ONLINE?
No choice is better than Feel Good Edibles! We produce our CBD gummies in a health-friendly controlled environment. Our products are designed in accordance with strict quality standards. By delivering our best CBD edible gummies to our valued customers, we feel privileged to be able to provide top quality to the ones we love and care about! We want you to be happy, that's our goal!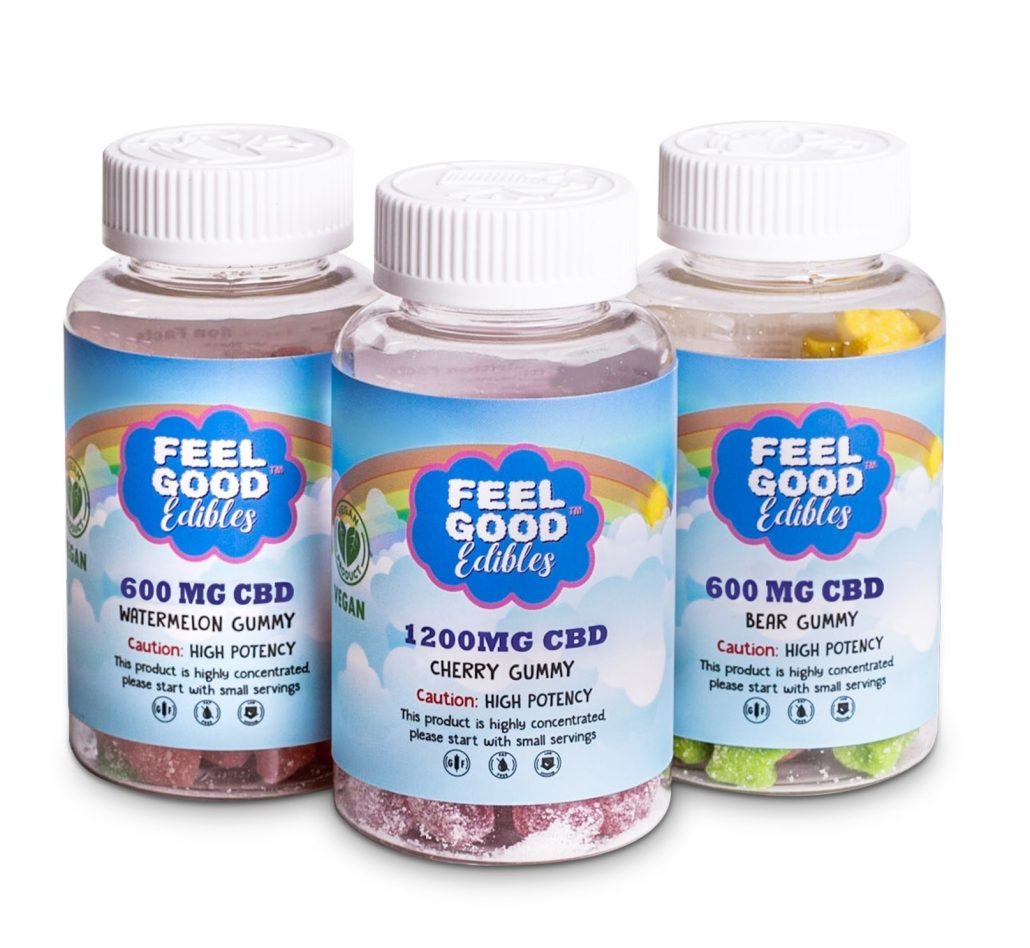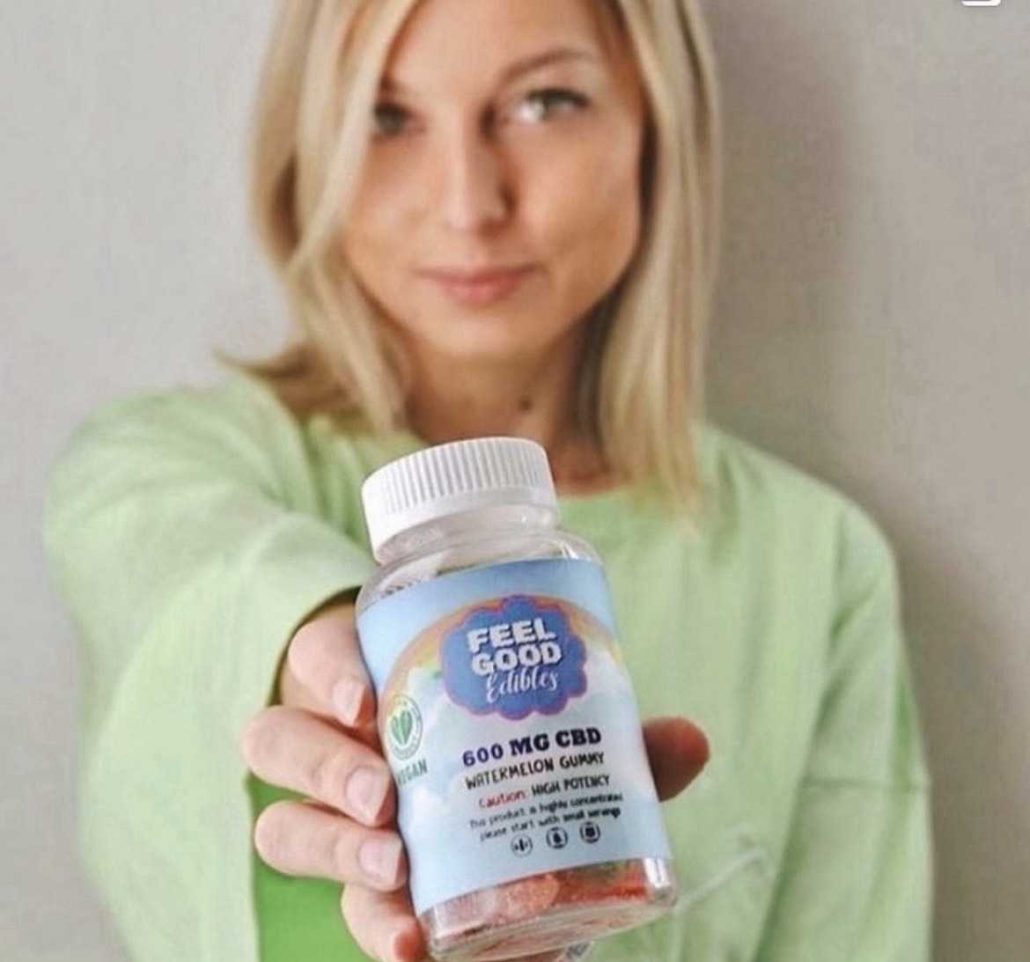 Why Feel Good Edibles? Feeling good is our top priority. We are a team of passionate visionaries, and Cannabinoid enthusiasts, brought together by a desire to help people live their best lives. All of our CBD gummies undergo rigorous research and quality testing formulated by pharmacists, keeping our key factor in mind, the end consumer's satisfaction. To adhere to all regulations and ensure you get a consistently high-quality product with a taste that's to die for, we guarantee our Feel Good Edibles contain pure Cannabidiol without any THC.
How do we achieve the staple mouth-watering taste of our CBD gummys? We combine pure CBD extract with candy ingredients and fruit nectars in large-scale production using exact formulas to ensure your new favorite snack is safe, healthy, easily digested, and absolutely delicious! A consistent CBD serving with Vegan CBD Gummies can easily be maintained. People now can buy CBD edibles online from many companies however, some products contain THC. The dosages are under the legal limit, but it is still being consumed. Feel Good Edibles produce only THC-free CBD edibles. The CBD dosage sold by Feel Good Edibles ranges from 300mg to 1500mg per bottle at 10mg, 20mg and 25mg per gummy.
Are CBD Gummys legal?
Feel Good Edibles CBD edibles contain 0% THC, which means they're completely safe and legal to use. We only use products and extracts that meet the strictest quality regulations in the USA to ensure there are no issues regarding the legality of our CBD gummys.
Can CBD Edibles be used as a painkiller?
While they're tasty enough to make you feel your best, Feel Good CBD edibles cannot make any claims about alleviating pain or helping with medical problems. There's a growing body of evidence that suggests CBD Gummies may help soothe chronic pain and certain conditions, but the jury is still out.
Are CBD Gummys safe for minors?
Our CBD edibles are manufactured in the US and rigorously tested by third-party labs. However, to adhere to US law, we only recommend them for people over 18 years.
Do CBD Gummys help treat insomnia?
The goal of Feel Good Edibles is to help you unwind, relax, and feel good while snacking on a fruity, delicious treat. Unfortunately, we can't make any health claims regarding our products.
How do I use CBD Gummys by Feel Good Edibles?
Feel Good Edibles are available in three strengths : 10 mg per piece 20 mg per piece and 25 mg per piece of fruity, delicious flavor explosion with guaranteed feel-good effects
How many pieces per bottle do you sell online?
Each bottle contains 30 to 60 gummys (depending on size) and comes in either a 10mg CBD per piece, 20mg CBD per piece or a 25 mg CBD per piece version.
How are Feel Good Edibles better than other CBD Candy?
Here at Feel Good Edibles, we place emphasis on quality, safety and customer satisfaction. Our CBD gummys are manufactured in the US, made with pure Cannabinoid and natural fruit extracts for an unrivaled taste. Each bottle contains 30 to 60 gummys. We go to great lengths to ensure our gummys are accurately dosed with 10 to 25mg of the highest quality Cannabidiol per piece. Oh, and they come in 100% Vegan and made with organic ingredients. Sweetened using natural fruit flavor, every bottle is hands-down the tastiest treat you can find on the edibles market!
What should I expect if I'm using CBD Gummys for the first time?
Sit back and relax, enjoy the experience. Seriously, it's as easy as that. Our CBD gummys deliver a perfectly dosed fruity-flavored explosion. Please keep in mind that their feel-good effects are intentionally mild and take some time to show as the CBD edible needs time to be digested.
How long is delivery time?
At Feel Good Edibles, we are dedicated to our customers. We'll usually ship your order within 24 hours, but during busier times or holidays, shipping times may vary. Depending on your location, the standard delivery time is between 2 to 7 days.
Do Feel Good CBD Edibles work for anxiety?
Feel Good Edibles CBD gummys are hands-down the tastiest way to induce calmness, but they cannot and should not be used as a treatment for anxiety or any other mental or physical condition.. Always consult your doctor before consuming CBD edibles.
Do CBD Gummys have any impact on mental health?
Our CBD edibles are designed to help you feel good, put your mind at rest and unwind. They are rigorously tested to ensure you get a high quality product that delivers relaxation.
Are CBD Gummys safe for senior citizens?
Our CBD edibles are suitable for anyone over the age of 18, young or young at heart alike! If you're unsure whether our CBD gummys are right for you, always check with your doctor beforehand.